Voters across Minnesota are fired up and ready to re-elect Senator Tina Smith this November. We've got all the tools you need to share your support of Senator Smith with your friends, family, and social media followers. 
You can find Senator Smith's campaign on Facebook, Instagram, and Twitter. Make sure you follow and tag the campaign accounts on social media, and that you use #TinaForMN as much as possible.
So many Minnesotans are voting right now! Our team needs your help to spread the word that you're voting for Tina Smith for U.S. Senator in this Election.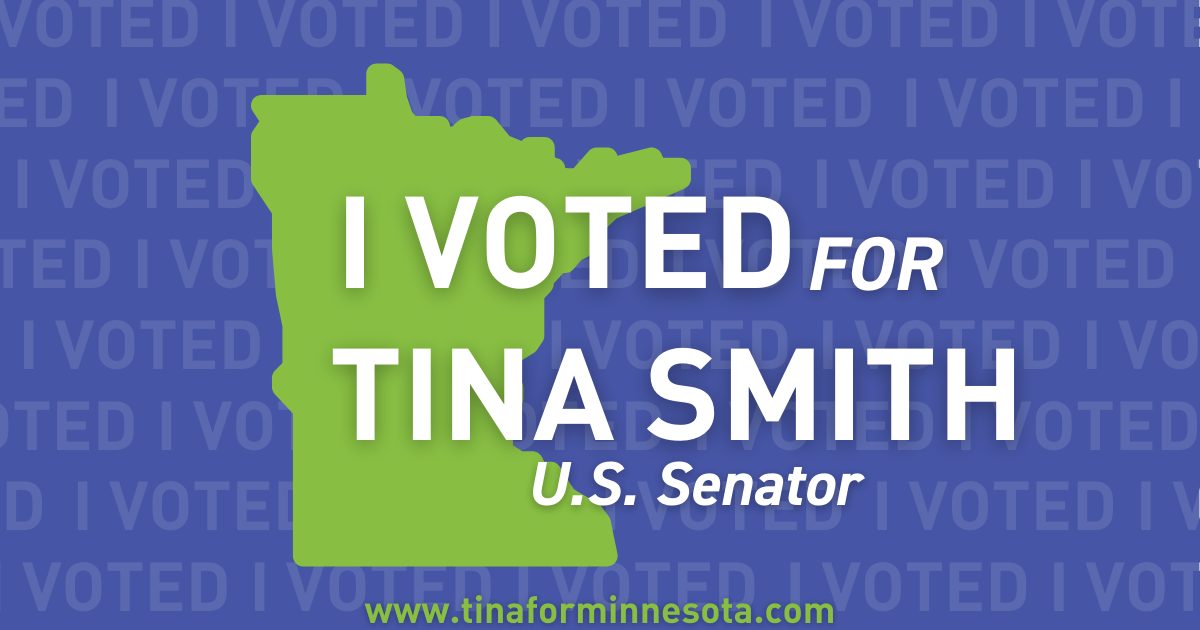 Download one of our "I Voted for Tina Smith" graphics to share (Facebook, Instagram, Twitter)
Show your support on camera with a Team Tina Zoom background (Version 1, Version 2)
Change your Twitter or Facebook headers in support of Tina (Version 1, Version 2)
Use one of our many pre-written emails here, or social media posts & graphics on a wide range of issues below ↓
---
Senator Smith is a Fierce Advocate for All Minnesotans (Download Graphic Here)
Senator @TinaSmithMN is a fierce advocate for ALL Minnesotans. Whether it's growing a stronger economy or advocating for stronger environmental protections, she is fighting for YOU. #TinaForMN
Senator Smith Believes in an Inclusive Minnesota (Download Graphic Here)
Senator @TinaSmithMN is working to build a more inclusive Minnesota. She's fighting for full LGBTQ+ equality, combatting the President's attacks against immigrants, and addressing systemic racism in every aspect of American life. #TinaForMN
Senator @TinaSmithMN has a proven record of delivering for Minnesotans. Whether it was the 2018 Farm Bill, helping secure additional funding for broadband, working to make COVID-19 testing free, and more, she has delivered on the issues Minnesotans care most about. #TinaForMN
I am excited to be voting for Sen. @TinaSmithMN this November. She's been a champion for ALL Minnesotans, and I know she'll keep fighting for us every day in the U.S. Senate. #TinaForMN

I am proud to vote for Sen. @TinaSmithMN this November and excited to be a part of Team Tina! #TinaForMN
No family should have to worry about losing their paychecks while caring for a sick child or family member. Senator @TinaSmithMN continues to fight for increased paid family and medical leave so every American can get ahead. #TinaForMN 

Earning a fair and livable wage shouldn't be a topic of debate. Senator @TinaSmithMN believes a $15 federal minimum wage is the first step in creating opportunities and supporting our communities. #TinaForMN

On average, Black women make $0.62 for every dollar a white man makes, and Latinx women make only $0.54. Sen. @TinaSmithMN is fighting for equal pay for equal work, and is working to address the disparities in income that many women of color face. #TinaForMN
Increasing Access to Affordable and Accessible Health Care (Download Graphic Here)
Every American deserves access to high-quality and affordable health care regardless of income. From helping lower the cost of vital drugs like insulin, to helping increase funding for rural health care during the pandemic, health care is a top priority for Sen. @TinaSmithMN. #TinaForMN

We've got to be expanding mental health resources and access for all Americans. Sen. @TinaSmithMN knows mental health care is health care, and it's an issue that's deeply personal to her. #TinaForMN

No one should be denied health care because of a pre-existing condition. Sen. @TinaSmithMN is fighting GOP efforts to repeal the ACA and she's defending health care access for those with pre-existing conditions. #TinaForMN
Our country's future lies in the strength of our public school systems & we've got to invest in our students now. That's why Sen. @TinaSmithMN has worked to expand resources for career & technical education & has been an advocate for investing in public education. #TinaForMN

Investing in education doesn't just mean investing in students. It also means investing in educators and staff. Senator @TinaSmithMN introduced a bill to address teacher shortages and has fought to increase resources for schools. #TinaForMN

We've got to invest in education at every age. Senator @TinaSmithMN helped establish All-Day Kindergarten in Minnesota, pushed to simplify student aid, and fought to make textbooks more affordable. #TinaForMN

Black, Brown, and Indigenous children often lack access to the same level of quality education as white children. Sen. @TinaSmithMN is working to address these disparities and ensure the same opportunity for every student. #TinaForMN
Every community should be safe from the fear of gun violence. Senator @TinaSmithMN has been a lifelong advocate for common-sense background checks and gun safety measures, and she's proud to have an "F" rating from the NRA. #TinaForMN
Supporting Minnesota's Farmers and Rural Communities (Download Graphic Here)
Minnesota's farmers are critical to the state's economy. And Sen. @TinaSmithMN has delivered for farmers. She played a key role in writing & passing the 2018 Farm Bill, which helped provide relief & expanded funding for Minnesota's farmers & agricultural industries. #TinaForMN

We've got to ensure MN's farm & rural communities have basic necessities like broadband access & quality health care. As part of the Senate Ag Committee, Sen. @TinaSmithMN has fought to make sure rural communities aren't left behind from access to vital resources. #TinaForMN

Agriculture is a crucial part of Minnesota's economy. Sen. @TinaSmithMN wants to ensure that farmers are included in fair trade policies that expand markets for MN agriculture and level the playing field with Mexico and Canada all while protecting MN's farmers. #TinaForMN
We've come a long way in supporting women's economic security and health, but we've still got a ways to go. Senator @TinaSmithMN is fighting for equal pay, equal workplace treatment, and reproductive freedom that shouldn't need to be fought for in the first place. #TinaForMN

Reproductive freedom continues to be attacked by the GOP. As the only Senator to work for Planned Parenthood, Senator @TinaSmithMN has been a lifelong advocate for choice and reproductive justice and will continue fighting against these attacks. #TinaForMN
Veterans have made tremendous sacrifices to help keep Americans safe & Sen. @TinaSmithMN is committed to supporting them. That's why she introduced the Veterans Hearing Benefits Act in 2019, hoping to ensure American heroes have access to care for hearing loss. #TinaForMN
No one should be discriminated against because of their identity or who they love. Senator @TinaSmithMN has been a longtime advocate of the LGBTQ+ community, and she's fighting to advance the progress we've made towards full LGBTQ+ equality. #TinaForMN

We need a U.S. Senator who fights for full LGBTQ+ equality and protection under the law and in our communities. Senator @TinaSmithMN fought to make same-sex marriage legal in Minnesota as Lt. Governor, and she's a supporter of the Equality Act. #TinaForMN

Trans women of color face a disproportionately higher amount of discrimination and violence across America. Sen. @TinaSmithMN is working to make sure we protect trans women of color across America and guarantee equality under the law. #TinaForMN
The fed govt has to uphold its treaties & trust with Tribal communities. As a member of the Indian Affairs Committees, Sen. @TinaSmithMN has worked alongside Tribal & Urban Indian communities to address the opioid crisis & help folks experiencing homelessness. #TinaForMN
Global warming is a threat to our climate and our economy. Sen. @TinaSmithMN believes we need bold action to ensure a clean, protected environment for future generations. #TinaForMN

Investing in clean energy will make a major difference in the fight against climate change. Sen. @TinaSmithMN wrote a bill to establish a federal clean energy standard and set us up to achieve net-zero emissions from the electricity sector by mid-century. #TinaForMN

We need international cooperation to fight climate change. Senator @TinaSmithMN believes that President Trump was wrong to leave the Paris Climate Agreement. She believes the U.S. needs to be a leader in the global fight against climate change. #TinaForMN
Minnesota's communities are strong because of our immigrant neighbors and friends. Sen. @TinaSmith is committed to reforming our immigration system to rid the bureaucratic potholes that make it harder for immigrants to thrive. #TinaForMN

Our immigration process should reflect America's values and prioritize the dignity of the folks seeking opportunity in the United States. Trump has failed to do either of those things. Sen. @TinaSmithMN has stood up to his anti-immigrant policies and rhetoric. #TinaForMN
Striving for Campaign Finance Reform and Strengthening our Elections System (Download Graphic Here)
It's time to get dark money out of politics. Senator @TinaSmithMN supports overturning Citizens United in order to create transparency and end corruption in our elections. #TinaForMN

No one, including Putin, should be meddling in our elections, and we've got to stand up to such efforts. Senator @TinaSmithMN helped co-sponsor a bill that would require federal campaigns to report interference efforts from foreign powers. #TinaForMN
Supporting Unions and the Right To Collectively Bargain (Download Graphic Here)
Unions allow people to fight for higher wages & better working conditions, and they've supported America's workers for centuries. Sen. @TinaSmithMN is proud to stand with workers and advocate for the right to collectively bargain. #TinaForMN
Access to reliable broadband is not a luxury, it is a necessity. Senator @TinaSmithMN has been a champion for rural broadband, and has helped deliver additional funding to broadband programs across Minnesota. #TinaForMN

Broadband is a necessity for every American. Sen. @TinaSmithMN has fought to expand rural broadband and led bipartisan efforts to protect the ability of rural co-ops to expand broadband in rural areas. #TinaForMN
Protecting USPS from Trump Administration attacks (Download Graphic Here)
Senator @TinaSmithMN believes in strengthening the USPS and is fighting the Trump Admin's efforts to sabotage the Postal Service, which would impact vote-by-mail efforts and has led to delays in receiving urgent medication and paying bills. #TinaForMN

USPS employees will go the extra mile to get your mail delivered. Protecting the USPS is not just about getting mail delivered, it's also about protecting the jobs of 600,000+ Americans, many of whom are veterans. Senator @TinaSmithMN is fighting for them too. #TinaForMN

The dismantling of mail sorting machines and changing of routes is a detriment to the USPS. Senator Smith has pushed Postmaster General DeJoy to not only stop his dismantling of USPS, but also to reverse the changes he's made. #TinaForMN
Justice for George Floyd and Addressing Systemic Racism
We need to use this moment of collective national grief over systemic racism to take action. Sen. @TinaSmithMN is working to address systemic racism in every aspect of American life, from economic opportunities and maternal health, to health care and housing. #TinaForMN

From law enforcement & education to housing & environmental racism, we need to address systemic racism in every aspect of our lives. Sen. @TinaSmithMN is working alongside MN's communities to fight for change in the Senate. #TinaForMN

In the Senate, Senator @TinaSmithMN is fighting to address systemic racism in policing. She helped introduce legislation to transform the role of policing in America, and wrote a bill to support communities in exploring ways to address systemic racism in policing. #TinaForMN
Addressing the COVID-19 Pandemic
We're dealing with the biggest public health crisis in a century. Sen. @TinaSmithMN believes we should respond aggressively. She supported the bipartisan COVID-19 relief package, & has pushed the Senate to take action on a new package just like the House has. #TinaForMN

Senator @TinaSmithMN fought for and succeeded in ensuring that COVID-19 testing would be free. Now she's pushing to ensure that any vaccine would be made widely available at no-cost to Americans. #TinaForMN

Addressing COVID-19 should be guided by science. Senator @TinaSmithMN believes that we should be wearing masks to protect ourselves & our communities & that our government's decisions on COVID-19 should be guided by experts, not politics. #TinaForMN

COVID-19 has presented a major challenge to reopening our schools. Senator @TinaSmithMN is working to ensure that American schools have the resources they need to reopen safely. #TinaForMN

We must provide more economic relief to Americans struggling because of COVID-19. Sen. @TinaSmithMN is fighting to extend unemployment benefits, give every American another round of stimulus checks, & make sure small businesses have the support they need. #TinaForMN

COVID-19 has not been the great equalizer. It has disproportionately hurt Black, Brown, and Indigenous communities. Sen. @TinaSmithMN is working to help address these disparities now amidst the pandemic, but also beyond. #TinaSmithMN
The Importance of the 2020 Election
Joe Biden has the heart, the experience, and the values to lead us as President. Senator @TinaSmithMN supports the Democratic ticket of Joe Biden and Kamala Harris. She is committed to ensuring we keep Minnesota blue, defeat Donald Trump, and flip the Senate. #TinaForMN

This is an unprecedented election. Senator @TinaSmithMN is working to ensure Americans can vote safely and securely, whether it's by mail or in-person. #TinaForMN

We must protect our elections from any and all attacks. Senator @TinaSmithMN believes we need to strengthen our election security and stand-up to foreign powers that are trying to influence our elections. #TinaForMN